Application
CFHQ3 series automatic transfer switch(hereinafter referred to as switch) is mainly used forAC three-phase four-wire power supply system with 50Hz, rated working voltage of 400V and rated current up to 630A. The power supply to the load is interrupted during the abnormal supply voltage of the power supply system. Switch the load manually or automatically to the backup power supply. It is suitable for applications requiring two power supplies and high power quality requirements. Widely used in hospitals, shopping malls, banks, high-rise buildings, telecommunications, mining, highways, airports, industrial assembly lines, and military facilities.
The product meets the standard: GB/T 14048.11.
Working Condition
The upper limit of the ambient air temperature does not exceed 40 degrees, the lower limit is not less than-5 degrees, and the average value within 24 does not exceed 35 degrees.
Installation location does not exceed 2000m.
At a maximum temperature of 40 degrees, the relative humidity of the air does not exceed 50%, and a higher relative humidity can be allowed at a lower temperature. For example, it can reach 90% at 20℃.
Special measures should be taken for condensation that occasionally occurs in temperature changes.
Pollution level: level3
Installation category: Class IV The switch should be installed where there is no significant shaking, shock, and rain. At the same time, the installation site should be free from explosive hazardous media, and there is no gas or dust in the media that is sufficient to corrode metals and destroy insulation.
Specifications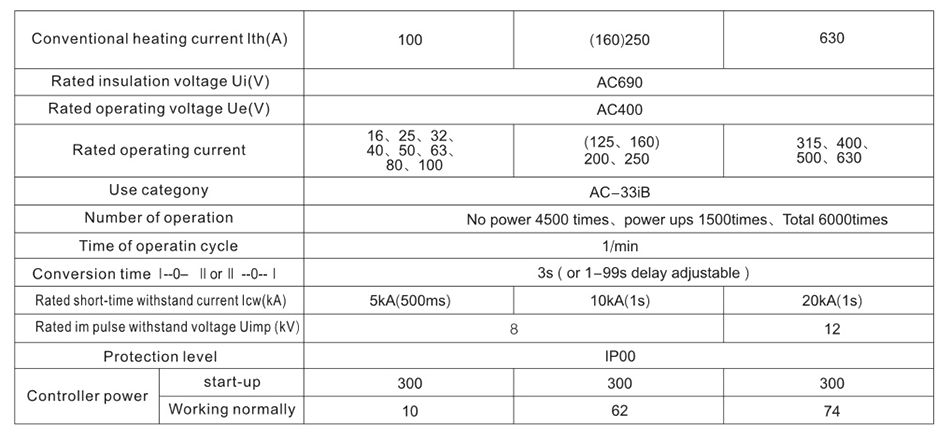 Dimensions